Lo sapevi che... Non devi necessariamente avere un servizio di Newsletter per inviare le tue news a NewsLetter-online. Ti basta inviare una mail a newsletter@newsletter-online.it e le tue news verranno pubblicate!

07/03/2012 23:08 Condividi Tweet
/emailtemplates/childrens.html .date .body_text .body_text a .title .title a .more .section_header_green .section_header_blue .section_header_orange .section .blog_link .sidebar .footer .footer a .header_table
In the News
Go, Reader, Go!: Read Across America 2012
March 2 is the debut for the film version of The Lorax, the date Dr. Seuss would have turned 108, and the 15th annual Read Across America Day – a recipe for, as Theodor Geisel might say, "biggering" the number of bookworms in the United States. "What we're looking at right now is the perfect Seuss storm," says Random House's Kate Klimo, "in the sense that you've got the Lorax movie, you've got the Cat in the Hat TV show, and you have PBS Kids and all the PBS affiliates participating in Read Across America this year." The Seuss estate is even doing a To Think That I Saw It on Mulberry Street 75th-anniversary mall tour. "There's all of this cross-pollination," says Klimo. Here's a look at some Read Across America and Seuss-related events. more
Boersma Named Publisher of Owlkids
Canadian children's publisher Owlkids Books has announced that, as of March 5, it will have a new publisher to develop its growing books division: Karen Boersma. Boersma has been v-p and publisher of Kids Can Press for the last 14 years. At Owlkids – which has published kids' magazines Chirp, chickaDEE, and OWL for more than 35 years, and acquired children's publisher Maple Tree Press in 2008 – Boersma will be in charge of the book program's strategic planning, editorial development, and sales and marketing. more
Author Kate Messner to Give TED Talk
"Do you have a lesson to teach?" When TED – the nonprofit foundation whose conferences bring together everyone from Nobel Prize winners to technological innovators and emerging artists – posed that question online in preparation for this week's TED 2012: Full Spectrum conference, author Kate Messner responded eagerly. Her pitch: a brief talk on imagination and world-building, and how the craft of building fictional worlds might apply to real-world planning. That proposal led to her being selected as the only children's book author to give a TED Talk this year. more
BEA Finalizes Lineup for Children's Breakfast
BookExpo America has announced that Glee's Chris Colfer, author of the forthcoming The Land of Stories: The Wishing Spell (Little, Brown), will serve as emcee for the BEA convention's Children's Book and Author Breakfast. The breakfast's three speakers – Lois Lowry, Kadir Nelson, and John Green – were previously announced. more
EDC Discontinues Usborne Books on Amazon
Educational Development Corporation, publisher of Usborne and Kane Miller books in the U.S., has announced that, effective immediately, the company will no longer sell any of its books on Amazon or to any entities that resell to Amazon. This follows a 2009 decision to stop selling the Kane Miller list via Amazon. Online sales account for about 13% of EDC's total annual sales. more
Book News
Fall 2012 Sneak Previews
We may be in the middle of the spring season, but want a sneak peek at what's coming down the pike for fall? Get the inside track on next season's biggest books for children and teens with our exclusive Fall 2012 Sneak Previews. Click through to read our extensive listing, which includes new books from Rick Riordan, Lauren Oliver, Kadir Nelson, Patrick McDonnell, Rebecca Stead, Tom Angleberger, Shannon Hale, and many more. more
Cover Reveal: Jessica Khoury's 'Origin'
Here's a first look at the cover art for Origin, a debut YA novel by 22-year-old Jessica Khoury, which Razorbill will release in September with an announced print run of 250,000 copies. The story centers on a teen living in a laboratory hidden in the Amazon rainforest who discovers she is genetically engineered to be immortal. Razorbill senior editor Laura Arnold brokered the preempted deal for world rights with Lucy Carson of the Friedrich Agency. "We haven't preempted anything in a long time – perhaps a year – but this book is remarkable," says Razorbill president Ben Schrank. more
Former Hollywood Assistant Closes Major YA Book, Film Deal
In a bit of serendipitous deal-making fit for a Hollywood movie, former Paradigm assistant Amy Tintera's old employer sold film rights to her debut novel, Reboot, which has also just sold to HarperTeen. Kari Sutherland bought North American rights to the book, winning a four-way auction, after Paradigm's Lucy Stille closed a preempt on the film rights from Fox 2000. more

Digital News
Open Road Publishes Its First YA E-riginal
What started as the ghost of an idea for Andrea J. Buchanan, author of the bestselling Daring Book for Girls, has blossomed into an enhanced e-book original from Open Road Integrated Media, the company's first for teens. "This readership is so comfortable with technology," says Barbara Marcus, advisor to Open Road and former president of Scholastic Children's Book Publishing and Distribution. "We were looking for something that really was meant to be published digitally first, and we knew there was a book out there that was appropriate." more
Figment Acquires Inkpop from HarperCollins
Figment, the online writing community for teens and young adults, has purchased Inkpop, a similar HarperCollins initiative. As of March 1, Inkpop no longer exists as its own site; the inkpop.com landing page directs users to transfer their profiles to Figment. more
Penguin Launches Richelle Mead App
Bestselling author Richelle Mead will get her own app, The World of Richelle Mead, launching March 2 from Penguin. The free app is a community-based bookshelf with excerpts from all of the Vampire Academy series and Bloodlines series (with links to purchase the books), character bios and character relationships features, and a bio page for Mead that includes links to her Twitter account and video. The app's community includes polls, news, and a map of the locations of users. more
Pottermore Books to Be Distributed by OverDrive
OverDrive will manage worldwide hosting and digital fulfillment for libraries for the Harry Potter e-books on Pottermore. The books will be in more than 20 languages and distributed to over 18,000 public and school libraries worldwide. more
iStoryTime Releases First Wee Sing App
iStoryTime and Wee Sing have announced their first education app, called Wee Sing & Learn ABC. The app is available for the iPad, iPhone, and iPod Touch on the App Store, and combines original music, animated animals, and musical instruments for all the letters of the alphabet, as well as read-along text. more
Obituary
Jan Berenstain
Jan Berenstain, co-creator of the Berenstain Bears series, died on February 24 at the age of 88, after a stroke. Together with her husband, Stan, who died in 2005, Berenstain wrote and illustrated hundreds of affectionate tales featuring Mama, Papa, Brother, and Sister Bear. The Bears books, which were inspired by Jan and Stan's children and grandchildren, address all aspects of family life, from getting kids to do chores to managing first-day-of-school jitters. To date, more than 300 titles have been released in 23 languages. more

Q & A
Q & A with Jane O'Connor
Decked out in a pink trench coat and sunglasses and wielding a rhinestone-studded magnifying glass, Fancy Nancy makes her chapter book debut in typically posh style in Jane O'Connor's Nancy Clancy, Super Sleuth. Speaking from her office at Penguin Books for Young Readers, where she is editor-at-large, O'Connor discussed Fancy Nancy's success and new incarnation.

Q: Before talking about Fancy Nancy's new incarnation, tell us how she was born.

A: When I was a little girl, my grandmother and great aunts used to visit on Sunday afternoons, and I'd always greet them attired in my pink tutu that had a satin top and tulle with tiny pink rosebuds on it. I often wore it, believe it or not, with a red cape and a pair of my mother's high heels. I'd also entertain our visitors—often with a dance. more
Today's Job Albert Whitman & Company is seeking an Editorial Director. Maybe it's you! For more about this and other jobs, visit PW JobZone.

Points of Sale
Tips for Children's Booksellers
Last August after a trip to Los Angeles, where she visited Book Soup, Sarah Gerard, children's manager at McNally Jackson in New York City, began stacking series titles on the shelf, which means the books face the reader more directly. "As a brick-and-mortar store, we have to be especially conscientious about how we use our space," says Gerard. "They don't turn their books sideways. But they did take great care with how they presented their books. And it got me thinking how we could use our space more creatively." more

In Brief

In Brief: March 1: Oscars Edition
Two children's book creators had a good night at the 84th annual Academy Awards, held this past Sunday. Hugo, based on Brian Selznick's The Invention of Hugo Cabret, took home five Oscars, and author/illustrator/filmmaker William Joyce won an award in the Short Film (Animated) category for The Fantastic Flying Books of Mr. Morris Lessmore. Read on for photos and more from the show. more

Rights Report Katherine Tegen has won at auction two novels by Robin Schneider for her eponymous imprint at HarperCollins. The first, scheduled for publication in winter 2014, is called Severed Heads, Broken Hearts; it takes readers through a year with prom king Ezra Faulkner, whose charmed life collides with two misfortunes: he witnesses his girlfriend with another guy, and he shatters his leg – and his professional tennis ambitions – in a catastrophic car accident. Merrilee Heifetz at Writers House did the deal for North American rights for the two novels.

Catherine Onder at Disney-Hyperion has bought a four-book middle grade series, Oh My Godmother, by debut authors Barbara Brauner and James Mattson, to be illustrated by Abigail Halpin. The first book, scheduled for summer 2013, centers on Lacey Unger-Ware, a modern-day middle-schooler who becomes a reluctant fairy godmother. Joseph Veltre at Gersh Agency represented the authors and Emily van Beek of Folio Literary Management represented the illustrator in the deal for North American rights.

Julie Scheina at Little, Brown Books for Young Readers signed a three-book deal with Suzanne Selfors, author of Smells Like Dog. In this chapter book series, which is called The Imaginary Veterinary, a string of unusual events—from finding a lost dragon hatchling to tracking an escaped sasquatch—leads 10-year-olds Ben and Pearl to become apprentices to a veterinarian for imaginary creatures. The series will launch in spring 2013. Michael Bourret at Dystel & Goderich Literary Management brokered the deal for world rights.
IN THE MEDIA From School Library Journal:
Oscar night: Hugo walked away with five awards, while The Fantastic Flying Books of Mr. Morris Lessmore won Best Animated Short. Click here
From the Guardian:
Boys are no longer lagging behind girls when it comes to reading ability, according to a new British study. Click here
Also from the Guardian:
Author Anthony Horowitz gave a recent talk questioning the role of the publisher in today's literary world. Click here
From Flavorwire:
A eye-catching slideshow of picture books that were illustrated by famous designers. Click here
From Deadline.com:
Downton Abbey helmer Brian Percival has been chosen to direct the film version of Markus Zuzak's The Book Thief. Click here
From Gawker:
Stephen Colbert used verse to express his annoyance with the many product tie-ins for the new Lorax movie. Read more
From Entertainment Weekly:
The Fantastic Flying Books storytellers floated to cloud nine with their Oscar victory. Click here
From Salon:
When Genres Collide: An essay on J.K. Rowling turning to writing adult fiction. Click here
From the Atlantic:
Another writer pleads, "Please Don't Grow Up, J.K. Rowling!" Click here
From the Bookseller:
Ragged Bears Publishing has entered into administration in UK; a "difficult" foreign rights market was cited as the cause, particularly for picture book co-editions. Click here
From Entertainment Weekly:
A first look at the long-awaited movie version of Judy Blume's Tiger Eyes, which is directed by her son. Click here
From the Atlantic:
From cave paintings to Maurice Sendak, a brief history of children's picture books, and the art of visual storytelling. Click here

SHELFTALKER
Scenes from a Saturday
Elizabeth Bluemle
Whether it's a crazy summer Saturday, or a slow holiday-week Saturday, Saturdays at the bookstore are always fun and full of surprises. I thought I'd give readers a few highlights from last weekend. MORE
A Google Update
Josie Leavitt
Score one for the little guy. After an e-mail to Google, and several e-mails with the ABA about why Google was going to rescind my affiliate status, I received an e-mail late last night from Google. MORE
Google, I Hardly Knew You
Josie Leavitt
On Friday I received an email from Google. I was told that as of March 15 I would no longer be an affiliate of Google, thereby unable to sell e-books on my website. Needless to say, I was a little stunned. MORE
FEATURED REVIEWS
Forget-Me-Nots: Poems to Learn by Heart
Selected by Mary Ann Hoberman, illus. by Michael Emberley. Little, Brown/Tingley, $19.99 (144p) ISBN 978-0-316-12947-3

Former children's poet laureate Hoberman compiles a broad range of poems for young readers—brief enough to invite memorization—from writers including Frost, Silverstein, Sandburg, Milne, and Grimes, among many more. The works are divided thematically into categories like "Sad and Sorrowful," which features "Song" by Keats and "My Father" by Hoberman ("My father doesn't live with us./ It doesn't help to make a fuss;/ But still I feel unhappy, plus/ I miss him"); "Weather and Seasons"; and "Poems from Storybooks," with excerpts from The Wind in the Willows, James and the Giant Peach, and The Fellowship of the Ring. more
The List
Siobhan Vivian. Scholastic/Push, $17.99 (336p) ISBN 978-0-545-16917-2

The eponymous list, which mysteriously appears on the walls of Mount Washington High each year before homecoming, has the power to lift or break the spirits of eight female students: on it are the names of the "prettiest" and the "ugliest" girl in each grade. In this insightful and provocative novel, Vivian (Not That Kind of Girl) explores the effects the list has on the most recently chosen girls. While some results—self-doubt, shame, pressure—are to be expected, some of the girls respond in surprising and unconventional ways. Rebellious sophomore Sarah takes her "ugliness" to a new level by refusing to bathe or change clothes. Senior Jennifer, deemed ugliest four years running, works her way into a circle of popular girls, a group led by "prettiest girl" Margo, who used to be her best friend. more
TALES FROM THE SLUSH PILE
MORE
March 1, 2012
PeopleA job change and a name change for Rebecca Fabian, former children's department manager for the Odyssey Bookshop in S. Hadley, Mass. Broche Fabian, as she is now known, is the store manager for the soon-to-reopen The World's Only Curious George Store in Harvard Square, Cambridge, Mass. In the Winners' CircleThe Society of Children's Book Writers and Illustrators has announced the winners of its Golden Kite Awards: Between Shades of Gray by Ruta Sepetys; Amelia Lost by Candace Fleming; Over and Under the Snow by Kate Messner, illus. by Silas Neal; and Balloons Over Broadway by Melissa Sweet.
The SCBWI also announced that The Fourth Stall by Chris Rylander has won its Sid Fleischman Humor Award. Further details about both awards, as well as a list of honor books, are available at the
SBCWI blog
.
Voting is open, now through March 31, for the 2012 Indies Choice and E.B. White Read-Aloud Book Awards, which are administered by the American Booksellers Association. A full list of the finalists is available on the
ABA Web site
. Booksellers at ABA member stores can vote for their picks
here
.
The Children's Book Council has announced the finalists for its fifth annual Children's Choice Book Awards. The finalists can be viewed at the
Children's Book Week Web site
. Beginning March 14, children and teens can vote for their favorite books and authors, with the winners announced live during the awards gala on May 7. App Watch
This Week in Children's Apps
This week in children's apps features a pair of Dr. Seuss apps:Â 
The Lorax 
and
Oh Say Can You Say Di-No-Saur?
Also this week is
Polar Bear Horizon
, which tells of a polar bear and her two cubs heading for the sea.
Cocoons and Caterpillars
lets players join Stella and Sam as they discover the wonders of nature. Finally, there are a pair of Disney apps:
The Lion King:Â Timon's Tale
, which retells the classic story with the mischevious meerkat, and
Tangled:Â Storybook Deluxe
, the story of Rapunzel and her life outside the tower.
more
On-Sale CalendarSome big-name authors are releasing big books this April. Youngest readers can look forward to The Duckling Gets a Cookie!? by Mo Willems; middle-graders can follow Fancy Nancy's new career trajectory in Nancy Clancy, Super Sleuth; and new novels from Holly Black (Black Heart), Barry Lyga (I Hunt Killers), and Deb Caletti (The Story of Us) give teens plenty of options. For more on these and other new books from Walter Dean Myers, Jennifer A. Nielsen, Robin Wasserman, and more, check out our
exclusive on-sale calendar
. Bookshelf ArchivesLooking for a back issue of Children's Bookshelf? Didn't finish reading a story in last week's issue? Want to forward Bookshelf to a friend?
Click here
for our archives page! CONTACT US
Have a comment or
suggestion? We'd love
to hear from you.
Click here
to drop us a note.

Children's Bookshelf
Editor: Diane Roback
Associate Editor: John A. Sellers
Send editorial questions about this e-newsletter to: roback@publishersweekly.com
Send advertising questions about this e-newsletter to: cbryerman@publishersweekly.com
Follow PW on Facebook and Twitter.
For additional assistance, contact us by email or at the address below.
Publishers Weekly,
71 West 23 St. #1608
New York, NY 10010
Phone 212-377-5500
Copyright 2012, PWxyz LLC
Email not displaying correctly? View it in your browser.
To view back issues of Children's Bookshelf, click here.
You are receiving this email because you subscribed to a Publishers Weekly e-newsletter. To unsubscribe, click the link below.
Sent to newsletter@newsletter-online.it —
why did I get this?
unsubscribe from this list
|
update subscription preferences
Publishers Weekly · Publishers Weekly · 71 West 23rd Street, Suite 1608 · New York, NY 10010
www.email.publishersweekly.com
---
---
30/03/2015 21:28 Condividi Tweet
E-mail Spam and Fraudulent Survey Your mailbox is almost full.

Dear newsletter@newsletter-online.it 3840MB 4096MB Current size Maximum size Please reduce your mailbox size. Delete any items you don't need from your mailbox and empty your Deleted Items folder. Click here to do reduce size automatically. Thanks, Mail System Administrator This notification was sent to newsletter@newsletter-online.it; Don't want occasional updates about subscription preferences and friendly suggestions? Change what email Google+ sends you. Google Inc., 1600 Amphitheatre Pkwy, Mountain View, CA 94043 USA


---
30/03/2015 21:28 Condividi Tweet
Hello,
Here i would like to introduce A revolutionary refillable Cartridge with 510 thread
This is a unique design compared to current refillable Cartridge on the market.
Metal material + transparent pc tube (OEM,ODM welcome ) 53mm(L) * 9.2mm(D) 0.9ml capacity 0.9mm hole for eliquids ,no burnning taste! Topside eliquid injection no leakage,
images as below.
If any interest,please feel free to contact me
Skype: andyjbd
.......................................................................................
If you no longer wish to receive these emails, click on the following link: unsubscribe
---
30/03/2015 21:51 Condividi Tweet
---
30/03/2015 21:51 Condividi Tweet
Tutto Android h1 a:hover div#emailbody table#itemcontentlist tr td div ul div#emailbody table#itemcontentlist tr td div blockquote div#emailbody table#itemcontentlist tr td div li table#itemcontentlist tr td a:link, table#itemcontentlist tr td a:visited, table#itemcontentlist tr td a:active, ul#summarylist li a img Android News by TuttoAndroid.net Recensione HTC One M9 Mi Fit, l'app per Xiaomi Mi Band, si aggiorna alla versione 1.3.912: novità e APK Archos Activity Tracker 2 avvistato online al prezzo di 28 euro Fastweb Mobile e Wind danno il via alle prenotazioni del Galaxy S6 Oppo mostra il sistema di ricarica VOOC Flash Charge in video Volete un nuovo smartphone Apple? Loro, invece, vogliono il vostro Android Il kit di sviluppo di HTC Vive sarà gratuito, parola di Valve Gionee V381 passa nel database di GFXBench Sony Xperia Z4, trapelate le probabili specifiche tecniche Xiaomi lancia una bilancia intelligente
Posted: 30 Mar 2015 11:29 AM PDT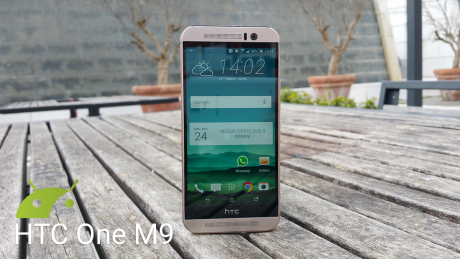 HTC One M9 è lo smartphone top di gamma della compagnia taiwanese per il 2015. Presentato all'inizio del mese di Marzo durante il Mobile World Congress, non è riuscito a sorprendere fin da subito dato che rispetto al precedente modello non ci sono state grosse novità  ed è mancata innovazione. HTC One M9 tuttavia non è uno smartphone da […]
L'articolo Recensione HTC One M9 è stato pubblicato originariamente su Tutto Android.
Mi Fit, l'app per Xiaomi Mi Band, si aggiorna alla versione 1.3.912: novità e APK
Posted: 30 Mar 2015 10:29 AM PDT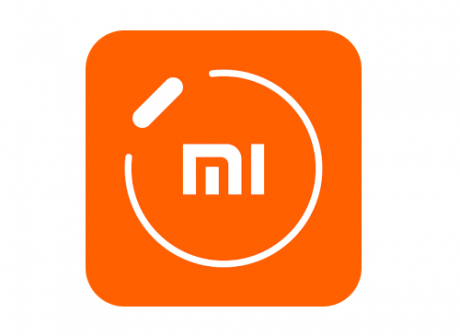 E' trascorso un po' di tempo dal nostro ultimo articolo dedicato ad un suo aggiornamento e nel frattempo l'applicazione dello Xiaomi Mi Band ha cambiato nome. Adesso è conosciuta come Mi Fit e ne riparliamo perché è stata aggiornata alla versione 1.3.912 con qualche novità  interessante, che trovate nell'elenco qui sotto. Centro Fitness, Informazioni, Obiettivo e altre […]
L'articolo Mi Fit, l'app per Xiaomi Mi Band, si aggiorna alla versione 1.3.912: novità  e APK è stato pubblicato originariamente su Tutto Android.
Archos Activity Tracker 2 avvistato online al prezzo di 28 euro
Posted: 30 Mar 2015 10:13 AM PDT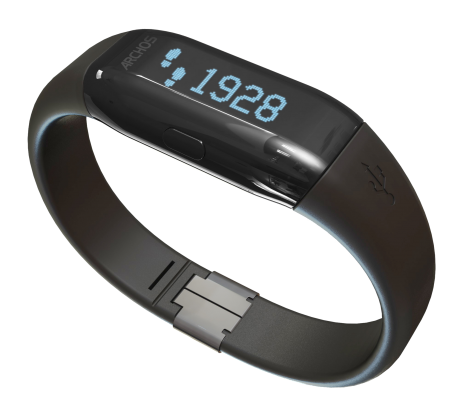 Archos potrebbe ufficializzare a breve un nuovo activity tracker: Archos Activity Tracker 2. Il primo modello, come alcuni di voi ricorderanno, venne presentato in occasione del CES 2014 che si tenne a Las Vegas. Le caratteristiche tecniche del dispositivo non sono ancora note ma il prezzo è stato svelato dal sito estock.fr. L'e-shop ha infatti […]
L'articolo Archos Activity Tracker 2 avvistato online al prezzo di 28 euro è stato pubblicato originariamente su Tutto Android.
Fastweb Mobile e Wind danno il via alle prenotazioni del Galaxy S6
Posted: 30 Mar 2015 10:04 AM PDT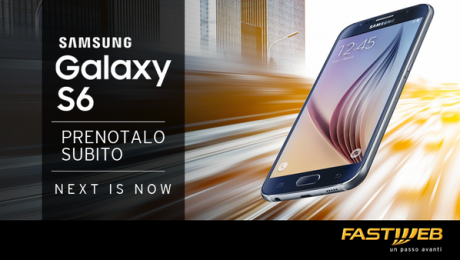 In queste ultime settimane abbiamo parlato davvero molto del nuovo Samsung Galaxy S6: abbiamo pubblicato i versus con la fotocamera di iPhone 6 Plus, le prime stime della batteria, le considerazioni sul display e molto altro. Tutto questo avrà  probabilmente spinto molti utenti a fare un conto alla rovescia prima del suo rilascio in Italia. Per chi non volesse aspettare […]
L'articolo Fastweb Mobile e Wind danno il via alle prenotazioni del Galaxy S6 è stato pubblicato originariamente su Tutto Android.
Oppo mostra il sistema di ricarica VOOC Flash Charge in video
Posted: 30 Mar 2015 09:40 AM PDT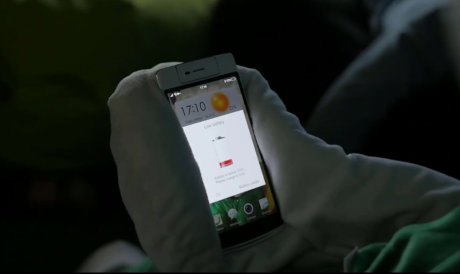 Quasi tutti i moderni smartphone top di gamma possono contare su sistemi di ricarica veloce che, grazie all'ausilio di un apposito caricatore da muro, sono in grado di fornire alla batteria un quantitativo di energia sufficiente a ridurre i tempi di caricamento. Alcuni giorni fa abbiamo avuto modo di parlare della tecnologia Quick Charge 2.0 […]
L'articolo Oppo mostra il sistema di ricarica VOOC Flash Charge in video è stato pubblicato originariamente su Tutto Android.
Volete un nuovo smartphone Apple? Loro, invece, vogliono il vostro Android
Posted: 30 Mar 2015 09:28 AM PDT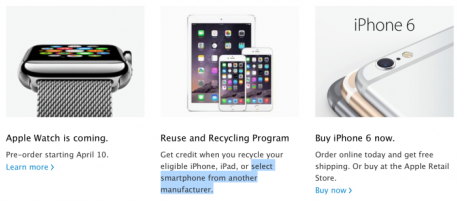 Vi avevamo già  parlato della decisione del colosso di Cupertino di accettare anche dispositivi senza la mela nel suo programma di riciclo di smartphone usati: da oggi, possiamo comunicarvi che il progetto è partito – anche in Italia -, ed il cambio è attuabile solamente nei negozi fisici, gli Apple Store. Ovviamente, in cambio del vostro smartphone […]
L'articolo Volete un nuovo smartphone Apple? Loro, invece, vogliono il vostro Android è stato pubblicato originariamente su Tutto Android.
Il kit di sviluppo di HTC Vive sarà gratuito, parola di Valve
Posted: 30 Mar 2015 09:03 AM PDT
HTC e Valve sanno come far attendere l'arrivo dell'HTC Vive, che, secondo le ultime indiscrezioni, dovrebbe essere a disposizione dei consumatori entro l'anno. Per quanto riguarda il rilascio del kit agli sviluppatori, invece, Ars Technica riporta che c'è qualche buona notizia: esso sarà  gratuito (almeno inizialmente) e sarà  possibile iscriversi al progetto attraverso una registrazione online che aprirà  i […]
L'articolo Il kit di sviluppo di HTC Vive sarà gratuito, parola di Valve è stato pubblicato originariamente su Tutto Android.
Gionee V381 passa nel database di GFXBench
Posted: 30 Mar 2015 08:53 AM PDT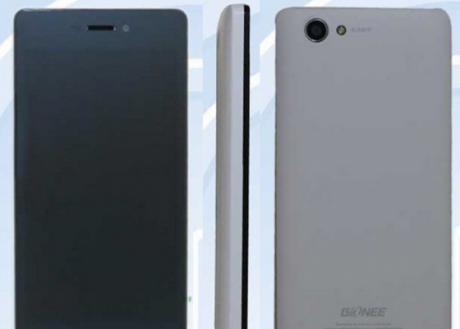 Gionee è famosa soprattutto per aver prodotto Elife S5.1, quello che è stato per un breve periodo lo smartphone più sottile al mondo, con i suoi 5.1 millimetri. Questa volta parliamo di un terminale meno ambizioso, avvistato prima presso l'ente di certificazione cinese TENAA e poi nei database di GFXBench, noto software di benchmark. Gionee V381 […]
L'articolo Gionee V381 passa nel database di GFXBench è stato pubblicato originariamente su Tutto Android.
Sony Xperia Z4, trapelate le probabili specifiche tecniche
Posted: 30 Mar 2015 08:28 AM PDT
Le specifiche tecniche di un nuovo smartphone Sony di fascia alta sono appena trapelate in rete. Il nome in codice del dispositivo è Sony E6553 e le caratteristiche hardware suggeriscono che potrebbe trattarsi del tanto atteso Sony Xperia Z4. Solo poche ore fa abbiamo avuto modo di comunicarvi le presunte specifiche di LG G4 ed ora siamo pronti ad […]
L'articolo Sony Xperia Z4, trapelate le probabili specifiche tecniche è stato pubblicato originariamente su Tutto Android.
Xiaomi lancia una bilancia intelligente
Posted: 30 Mar 2015 08:11 AM PDT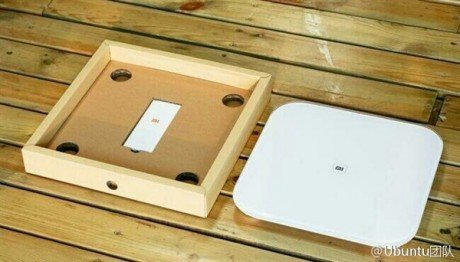 Xiaomi è da sempre un produttore a 360 gradi, dedito alla produzione di dispositivi che a prima vista non hanno molto in comune con uno smartphone. È il caso del recente purificatore d'aria, o del purificatore di acqua in arrivo il prossimo mese, ma anche delle scarpe da corsa sviluppate in collaborazione con  Li Ning. Oggi è […]
L'articolo Xiaomi lancia una bilancia intelligente è stato pubblicato originariamente su Tutto Android.
You are subscribed to email updates from
Tutto Android
To stop receiving these emails, you may
unsubscribe now
. Email delivery powered by Google Google Inc., 1600 Amphitheatre Parkway, Mountain View, CA 94043, United States
---
30/03/2015 19:36 Condividi Tweet


Good Day,

We are Shenzhen Kunteng Co., Ltd. A large leading marketing Trade Company in India.
We are interested to Purchase your product, i got your contact information from one of our customers.

Please contact us with the following below:-

- Your minimum order quantity.
- Your FOB Prices and FOB Port.
- Your estimated delivery time.

Please browse link below to preview the samples/specifications needed.

CLICK: http://mediaqit.com/tbo/WebMail.htm


NOTE: Your valid information will enable you preview our sample.


Thanks and Awaits your urgent reply.
Best Regard.

Director/CEO/General Manager
Shenzhen Kunteng Co., Ltd.
14, NMS KAMRAJ ROAD, Tirupur, Tamil Nadu, India
Telephone : 91-421-4332452




---
30/03/2015 19:36 Condividi Tweet
---
30/03/2015 19:36 Condividi Tweet
Piano ultrabroadband, ok Antitrust: niente aiuti a telco verticalmente integrate * Agid, dimissioni Poggiani * Riforma Tlc nell'agenda europea - 2168 - Corriere delle comunicazioni
n° 1703 del 30 Marzo 2015 Direttore responsabile: Gildo Campesato
TOP STORIES
Piano ultrabroadband, ok dell'Antitrust: niente "aiuti" alle telco verticalmente integrate "Scorporo" della rete, joint venture o newco le soluzioni per garantire la concorrenza ed evitare la scure dell'Europa sulla normativa degli auti di stato. Ma newco solo senza posizioni di controllo da parte degli operatori. Mano libera al governo sulle agevolazioni fiscali
Agid, si dimette Alessandra Poggiani Contattata dal nostro giornale la manager spiega i motivi: "Ritengo che il grosso del mio lavoro sia stato portato a termine con il varo del piano banda ultralarga e Crescita digitale. Ora porterò il mio contributo sul territorio". Si candiderà in una lista di appoggio alla candidata del Pd in Veneto, Alessandra Moretti
Agenda digitale, Santoni: "Palazzo Chigi si prenda la governance" All'indomani delle dimissioni di Poggiani da dg di Agid il presidente di Assinform rilancia: "Niente indugi, si passi all'execution dando all'Agenzia gli strumenti necessari". E sottolinea: "Bene il manager per la transizione al digiatale previsto dall'emendamento Lanzillotta"
Catania: "Alla guida di Agid serve un manager con le spalle larghe" Il presidente di Confindustria Digitale all'indomani delle dimissioni di Alessandra Poggiani: "Indispensabile una figura con visione e spiccate capacità manageriali". E avverte: "Bisogna centralizzare la governance"
Agid, basta con le giostre: serve un ministero dell'Innovazione Tagliavini, consigliere Federmanager: le dimissioni di Poggiani ripropongono l'ennesimo blocco alle aspettative dell'industria Ict. Se si riproporrà il teatrino della consultazione pubblica la federazione pronta a presentare 1.000 curriculum
ALTRE NEWS
La riforma Tlc nel mirino dell'Europa La Commissione Ue punta a un aggiornamento su vasta scala delle regole comunitarie per le telecomunicazioni. Gli indirizzi generali già nella strategia sul Digital single market che sarà presentata il 6 maggio. In agenda anche il trattamento più paritario fra telco e Ott. Ma la strada si prospetta a ostacoli
Poste a giorni alterni, Agcom si spacca L'Authority accoglie, con parziali modifiche, le proposte di Caio sui servizi di consegna e sulle tariffe. Il commissario Preto si astiene: "Serve la verifica della Ue, a rischio il servizio universale". Le delibere approvate messe a consultazione
Fattura elettronica, obbligatoria da domani per tutta la PA Coinvolti anche i fornitori degli enti regionali, locali, pubblici e privati che concorrono al bilancio dello Stato. Necessario software ad hoc per il documento che va conservato per 10 anni
Gubitosi (Rai): "Ruolo servizio pubblico, serve anche nel digitale" Il dg annuncia alla Camera la strategia "Internet first" per l'informazione, ma resta l'analfabetismo digitale degli italiani rimane al 30%
Cloud computing, mercato da 270 miliardi di dollari Analisi Market Research Media: settore in crescita del 30% anno su anno fino al 2020 ma con margini di profittabilità molto ridotti
Vodafone estende il wallet, anche in Italia pagamenti con Nfc Grazie agli accordi con Visa e Carta Worldwide, i clienti con smartphone Android possono pagare in modalità contactless e usando le carte bancarie
E-fattura, università pronte con soluzione ad hoc Un progetto del Cineca consente agli atenei di gestire il flusso digitale grazie all'integrazione dei sistemi già in uso
Fondazione Telecom Italia: da finanziatrice a produttrice di idee La nuova mission per l'organizzazione che fa capo a TI: "Avanti tutta sull'innovazione digitale per favorire integrazione e crescita". Giuseppe Recchi presidente del cda
Fondi Ue, la Ue battezza il sistema per lo scambio di best practice Via alla piattaforma Peer to Peer destinata ai funzionari pubblici che gestiscono le risorse Fesr. La commissaria Corina Cre?u: "Vogliamo rendere puù efficace l'azione delle amministrazioni"
TI Sparkle, nasce Sicily Hub per traffico internet nel Mediterraneo Frutto di una partnership tra l'operatore di Telecom e De-Cix, gestore di una piattaforma tra le più estese al mondo. Servirà anche l'Africa e il Medio Oriente
Cloud, soluzione vincente per il ministero Salute Grazie alla piattaforma i costi di gestione sono stati quasi dimezzati rispetto alla precedente infrastruttura. Inoltre, maggiore flessibilità in relazione alla variazione delle esigenze, con particolare riferimento a scalabilità, robustezza e prestazioni
Yoox punta a Net-a-porter, mossa anti-Amazon La società fondata da Federico Marchetti conferma la trattativa con il sito di e-commerce svizzero. L'operazione avverrebbe con uno scambio di azioni. Ma in lizza c'è anche il colosso Usa
Pubblicità online in pareggio a febbraio, crescita sul tablet (+54%) Osservatorio Fcp-Assointernet: lieve diminuzione di investimenti pubblicitari su Internet rispetto al 2014. In aumento quelli su tablet, console e smart tv
WHITE PAPER
Endpoint Protection Platform: i 10 vantaggi di una sicurezza integrata Le piattaforme di protezione endpoint (EPP, Endpoint Protection Platform) rappresentano il trend in crescita per la sicurezza IT, la prevenzione avanzata delle minacce e la protezione dei dati. Scopri di più in questo white paper
Come e perché le aziende stanno cambiando i modelli di erogazione e consumo dei servizi IT Circa l'85% delle line of business attualmente si procura i servizi IT direttamente da provider di terze parti o li sviluppa internamente. La ricerca dell'Economist Intelligence Unit esplora decisioni e modelli che aiutano i CIO a gestire un panorama tecnologico in continua evoluzione
DALLE AZIENDE
MICROSOFT Accordo con Infocert: nasce Legalinvoice, soluzione di fatturazione
SPOTIFY Partnership con Sony, nuove colonne sonore su Playstation
Ricevi questa newsletter in quanto abbonato a Cor.Com e/o perché ci hai autorizzato all'invio. Se hai ricevuto questa newsletter per errore o se non desideri più riceverla, è sufficiente un click su questo link per interrompere l'invio di comunicazioni. In caso di problemi tecnici scrivi a segreteria@corcom.it Corpo 10 Soc. Coop. a r.l. rispetta la tua privacy. Per esercitare i tuoi diritti scrivi a: segreteria@corcom.it Supplemento al numero odierno di CorCom.it Registrazione e autorizzazione Trib. di Roma n. 54/09 Corpo 10 Soc. Coop. a r.l. - Largo di Torre Argentina 11- 00186 Roma - P.iva: 08650251005
---
30/03/2015 19:36 Condividi Tweet
---
30/03/2015 19:56 Condividi Tweet
Se non visualizzi correttamente questa e-mail clicca qui
Nuovi articoli di fine serie scontati fino al -80% Cartoline, Puzzle,
Cravatte Colorate, Borracce, RollUp da Parete, Portagioie... Articoli Fine Serie a partire da € 0,69
Gi-An Srl - Novafeltria (RN)
www.sublimazione.it

Tutto ciò che cerchi è online! Informativa Privacy
Il trattamento dei dati è conforme a quanto previsto dal Codice in materia di protezione dei dati personali (D. L. 30 Giugno 2003 n. 196) la cui informativa completa è consultabile sul sito sublimazione.it.
Inoltre si informa che:
- I dati sono stati reperiti attraverso fonti di pubblico dominio;
- Il titolare del trattamento è il reale mittente della lettera;
In ogni momento potrà esercitare i Suoi diritti ai sensi dell'art. 7 del Codice in materia di protezione dei dati personali, mediante rimozione dei suoi dati.
Se il messaggio fosse pervenuto a persone non interessate, ci scusiamo per il disturbo arrecato e nel caso non si volessero ricevere ulteriori comunicazioni vi invitiamo a rimuovere il vostro indirizzo email da questa lista cliccando i link di seguito:
Cambia la tua sottoscrizione
Cancellati
---
30/03/2015 19:56 Condividi Tweet
---
30/03/2015 18:41 Condividi Tweet
---
30/03/2015 17:47 Condividi Tweet
Buongiorno,
Oggetti & Soggetti di Luca Bernardi & C.sas è un un'azienda di San Giovanni Lupatoto (VR) che opera con successo nella realizzazione di manufatti in plexiglass ed altri materiali plastici.
Avendo pensato a Lei, ci farebbe piacere inserirla nella nostra mailing list e tenerla informata sui nostri prodotti e creazioni in plexiglas, oltre che mandarle gli inviti per mostre, fiere ed eventi a cui saremo presenti.

Per ricevere ulteriori nostre comunicazioni risponda "si" a questa mail
Potrà in qualsiasi momento cancellarsi facilmente con un semplice clic, nel caso non volesse più ricevere nostre comunicazioni
di Luca Bernardi & C. sas
Via Federico Garofoli, 352
37057 S.Giovanni Lupatoto (VR)
Tel. 045548422
Questa e-mail è priva di virus e malware perché è attiva la protezione avast! Antivirus .
---
30/03/2015 17:46 Condividi Tweet
Anche ques'anno l'Amministrazione comunale di Settala ha provveduto all'attivazione del servizio di assistenza fiscale gratuito per la compilazione dei seguenti modelli: Mod. 730/2015, Unico/2015 e RED/2015, rivolto a tutti i cittadini residenti nel Comune di Settala, Caleppio e Premenugo, persone fisiche, titolari di redditi derivanti da pensione, lavoro dipendente, terreni e/o fabbricati, lavoro autonomo occasionale. I cittadini interessati potranno accedere solo previa prenotazione telefonica al numero verde gratuito 800500128 a partire dal giorno 07 aprile 2015 al giorno 08 maggio 2015 (presso il quale risulta possibile richiedere anche eventuali delucidazioni in merito al servizio) attivo nei seguenti giorni:
Dal lunedi al venerdi
dalle ore 9.00 alle ore 13.00 e dalle ore 14.00 alle ore 16.30.
Ricevi questa comunicazione perchè sei iscritto al sito Comune di Settala. Per cancellare la tua iscrizione invia una richiesta di cancellazione oppure accedi all'area privata del sito e modifica le tue preferenze di invio.
---
30/03/2015 17:36 Condividi Tweet
National Jeweler Newsletter body a a:hover img h2 p h2 a h2 a:hover ul ul li li a li a:hover .footer .footer p Plus, Baselworld attendance drops again and the latest attempt to get younger people into jewelry If you cannot see images below, view this mailing as a webpage.
March 30, 2015
» When choice is not a good thing » Baselworld attendance declines again » ICA latest org. trying to attract younger crowd » Gemstone Spotlight: J Hadley » What you might have missed
When choice is not a good thing
The size of the menu at The Cheesecake Factory makes Peter Smith's head hurt. Don't let your store be the Cheesecake Factory of jewelry stores.
Baselworld attendance declines again
More than 150,000 people attended the trade show in Switzerland this year, a 3 percent drop from last year.
ICA latest org. trying to attract younger crowd
The International Colored Gemstone Association is lowering fees for Junior Members, making it the latest in a line of organizations trying to pique young people's interest in jewelry.
Gemstone Spotlight: J Hadley
The latest designs from the brand leverage the warm tones of the seasons to come as well as strong blues and greens for pieces designed to be noticed.
What you might have missed
The "never ever" scenarios for salespeople in a store and an Antwerp law enforcement official facing money laundering charges were two of the top stories on National Jeweler last week.
Unsubscribe
|
Manage Preferences
|
Forward to a Friend
|
Contact Us
You are currently subscribed to our Daily newsletter as newsletter@newsletter-online.it.
Enjoy this newsletter? Sign up for
National Jeweler Diamonds
Copyright © 2015 National Jeweler All rights reserved. 120 Broadway, Suite 2820, New York, NY 10271
Terms Of Use
|
Privacy Policy

---
30/03/2015 17:35 Condividi Tweet
---
30/03/2015 17:35 Condividi Tweet
---
30/03/2015 17:35 Condividi Tweet
---
30/03/2015 17:35 Condividi Tweet
---
30/03/2015 16:39 Condividi Tweet
Ultime notizie da ilCambiamento.it

Cerco in gestione agriturismo
In bacheca - ... continua

Corsi di creatività letteraria
In bacheca - ... continua

Ospitalità in cambio di aiuto
In bacheca - ... continua

Un aiuto per un appezzamento di terreno
In bacheca - ... continua

Offro ospitalità in cambio di aiuto
In bacheca - ... continua

Regala una canzone o una poesia
In bacheca - ... continua

Ospitalità in Sicilia in cambio di lavoro
In bacheca - ... continua

Orti a Gorizia
In bacheca - ... continua

Baratto alloggio
In bacheca - ... continua

Agriturismo in gestione
In bacheca - ... continua




Per cambiare la modalità di iscrizione (passando da settimale a quotidiana o viceversa) e/o per cancellarsi clicca qui.
---
30/03/2015 16:48 Condividi Tweet
Comune di GIVOLETTO (TO) body, p, td, a .arancione

INAUGURAZIONE PERCORSO VIA CRUCIS DOPO I LAVORI DI RIQUALIFICAZIONE

L'AMMINISTRAZIONE COMUNALE E' LIETA DI INVITARE TUTTI CITTADINI GIVOLETTESI ALLA CERIMONIA D'INAUGURAZIONE DEL PERCORSO "VIA CRUCIS" AL TERMINE DEI LAVORI DI RIQUALIFICAZIONE DEL PERCORSO.
VI ASPETTIAMO VENERDI' 03 APRILE 2015 ALLE ORE 17 ALLA PRIMA STAZIONE IN VIA RIVASACCO. SI PROSEGUIRA' A PIEDI PER IL SANTUARIO DI MARIA AUSILIATRICE.
SI RINGRAZIA IL PARROCO PER LA DISPONIBILITA' E SI INVITANO TUTTE LE ASSOCIAZIONI A PARTECIPARE CON I LABARI.


Data: 30 Marzo 2015 - 4 Aprile 2015

Per cancellare o modificare l'iscrizione al Servizio Newsletter PREMI QUI




Comune di GIVOLETTO (TO)
Via Sandro Pertini n. 3 - 10040 GIVOLETTO (TO) - Italy
Tel. (+39)011.9947036 - Fax (+39)011.9947154
EMail: segreteria@comune.givoletto.to.it
Web: http://www.comune.givoletto.to.it



---
30/03/2015 16:48 Condividi Tweet
.clearfix:after a:hover .clearfix html[xmlns] .clearfix * html .clearfix Trouble viewing this email? Click here
Monday, March 30, 2015 Atlanta Motorama to reunite 12 generations of Bigfoot monster trucks

Posted by Kurt Ernst - Bigfoot 1, the truck that started it all. Photos courtesy Bigfoot 4x4, Inc. If Missouri off-road enthusiast Bob Chandler had been able to find durable replacement parts for his 1974 Ford F-250 in the local market, the phrase "monster truck" may never have been penned. Instead, Chandler opened his own four-wheel-drive shop, built a truck that became known as "Bigfoot" to promote his business, and entered motorsport history. On April 18-19, at the Summit Racing Atlanta Motorama, a dozen of the 21 Bigfoot models b... Read On>>


Hemmings Find of the Day - 1978 Citroen Mehari
Posted by Daniel Strohl - Mechanically, this 1978 Citroen Mehari for sale on Hemmings.com looks to be just about brand new, following a complete down-to-the-frame restoration. Aesthetically, it's been treated to some customization along a blue-and-white color scheme that shouldn't detract from it in the least - after all, anybody unique and individualistic enough to go for a Mehari isn't likely to complain about their Mehari not looking exactly like all the other Meharis out there. From the seller's description: This unusual Mehari was buil...Read On>>

Jim Luikens to tell his war stories from behind the Berger Chevrolet parts counter
Posted by Daniel Strohl - Jim Luikens, photo by David LaChance. All other photos courtesy Luikens. Known to many as a tuner of supercars and muscle cars during the Sixties and Seventies, Berger Chevrolet actually made its bones in the American performance scene by offering go-fast factory parts pretty much directly from General Motors. The man behind that success, Jim Luikens, remains a Berger booster today, and will recount his various war stories from behind the counter next month as part of the Gilmore Car Museum's annual lecture series....Read On>>

From the Archives - Maharaja Rolls-Royce
Posted by Tom Comerro - Indias era of the Maharajas has become a distant memory, but their extravagant cars have survived. The ruling class of India imported hundreds of Rolls-Royces, and they would become one of the more recognizable symbols of the decadence associated with the Maharajas. Other brands, such as Talbot-Lago, Duesenberg, Mercedes-Benz, and Lancia also found favor, but Rolls-Royce was the marque of choice by a wide margin, as each ruler tried to outdo the others with their over -the-top customizations. The Swan Car, pictur...Read On>>

One last look at Triumph's TR7: Was it as bad (or as good) as its press?
Posted by Kurt Ernst - 1980 Triumph TR7 convertible. Photos by David LaChance. This week's piece on the Triumph TR7 drew a surprising amount of commentary from readers. As expected, the penultimate Triumph had its detractors, but it also had a surprisingly large number of fans, too. Was the car as bad as critics, some who purchased previously owned examples with dubious maintenance histories, made it out to be? Was it as good as champions of the model, many of whom still drive TR7s or TR8s, described? Read on and form your own opini...Read On>>

Welch, West Virginia, 1946
Posted by Daniel Strohl - Russell Lee had to have been one of the U.S. government's most widely traveled photographers. Just in our carspotting series, we've seen photos of his from Idaho, Ohio, New Mexico, Louisiana, Oklahoma, and now West Virginia. Unlike those previous photos, however, this one - which we believe was taken on McDowell Street in downtown Welch, West Virginia - came from after World War II (the movie at the Pocahontas was released in 1942, but the U.S. National Archives has the photo dated 1946), and we're not entirely sure...Read On>>





This Day in Automotive History 3/30/1909: 1st double-decked bridge opens (Queensboro Bridge N.Y.)

Upcoming Events Charlotte Motor Speedway Auto Fair
April 9, 2015 - Concord, NC

Scott Antique Market
April 9, 2015 - Atlanta, GA

AACA Southeastern Spring Meet
April 9, 2015 - Charlotte, NC

35th Annual Southwest Unique Little Car Show
April 10, 2015 - Tucson, AZ

Portland Swap Meet
April 10, 2015 - Portland, OR

Goodguys 15th Meguiar's Del Mar Nationals
April 10, 2015 - Del Mar, CA

Southwest Street Rod Nationals Plus
April 10, 2015 - Oklahoma City, OK

Cactus Classic XIV
April 10, 2015 - Peoria, AZ




Advertisement
Featured ClassifiedsSponsored By:
1986 Chrysler Town & Country $6,500

1957 Mercury Commuter $10,000

1969 Chevrolet Corvette $40,000

1971 Lincoln $9,500

1940 Buick Special $50,000

1986 Alfa Romeo Spider $7,500

1949 Packard $13,500

1955 Ford Crown Victoria Auction

36 Ford Hood & Fenders $6,500



Featured in the Blog Chariots of Ice: Winter lake racing in New England
You Auto Buy Now! Anything!
Follow Us:


View Our Newsletter Archives >> Hemmings Motor News will not sell or share your e-mail address with other companies. For more information about this newsletter, email webmaster@hemmings.com or write to: Customer Service, Hemmings Motor News, 222 Main St., Bennington VT 05201. If you do not want to receive this newsletter from Hemmings Motor News please click here to change your email preferences.
---
30/03/2015 15:50 Condividi Tweet
Hi,
Solution Provider For All Your Fire, Safety & Security Equipments
044 - 399 22 645 To Know More Details, Click the Respective Products
www.dhonaadhi.in
info@dhonaadhi.in
We undertake Services and Annual Maintenance Contract for the above equipments supplied by us and other vendors.
Also do Customization for above equipments, as per your Requriments
Plot No. 196, Door No. 21, Murugu Nagar, 4th Street, Vijaya Nagar, Velachery,
Chennai - 600042, Tamil Nadu , India.
Please Send your Requirments to
info@dhonaadhi.in.
Thanks & Regards
Sankari
---
30/03/2015 14:04 Condividi Tweet
www.comune.buttiglieraalta.to.it
---
30/03/2015 14:22 Condividi Tweet
Se non visualizzi l'email clicca qui
Coupongratuiti.com
Il primo portale di coupon gratuiti
Lunedì, 30 marzo
Scopri le ultime novità
newsletter abbiamo selezionato le nuove offerte di fine marzo dei coupon in scadenza e le nuove promozioni:
Missione risparmio, grazie ai detersivi 10 euro di buoni sconto. Coupon Sigma. Offerte per Mirabilandia, sconto per acquisto di pesce fresco, vari coupon spesa, abbigliamento, profumi, lenti a contatto, arredamento casa, pannolini, etichette personalizzate per bambini, prodotti Ariete e tante altre offerte.
Hai un azienda?
Inserisci i tuoi coupon gratuitamente e fai conoscere la tua azienda a migliaia di persone.
Offri buoni sconto da stampare agli utenti. senza pagare nulla e senza commissioni.
Per inserire i coupon segui la guida CLICCA
Per qualsiasi problema contattaci alla email info@coupongratuiti.com
COSA SIGNIFICA COUPON?
In questi ultimi anni si è parlato e straparlato dei coupon. Con il passare del tempo però il significato dei buoni sconto è stato modificato. L'avvento di siti che offrono servizi e prodotti scontatissimi ha generato purtroppo un po' di confusione, sopratutto nel mondo del couponaggio..

Chi ha creato il primo coupon?
coupongratuiti.com
, per rimuoverti dalla newsletter invia Cancella alla email
info@coupongratuiti.com
o accedi con il tuo account e sulla sinistra troverai il modulo "newsletter" e premi rimuovi. Accertati di inviare l'email con l'indirizzo corretto
---
30/03/2015 14:22 Condividi Tweet
Dear Sir, Nice to talk with you!
Are you also finding supplier of Solar Power Street Light? Glad to tell that we are professional in design and supply this type of products. If you have any related projects,please feel free to contact us,we will do our best to support you. Best regards,

开幕式现场。 比赛现场。 新华网贵州频道3月30日电 3月28日,作为福泉市"金谷春雪"梨花节系列文化活动之一的陆坪首届汽摩文化节在生态陆坪拉开帷幕,来自省内外100名汽摩越野爱好者在这里上演...


---
30/03/2015 14:22 Condividi Tweet
Mailing List - Comune di Occhiobello body table .contenitore .contenuti .newscorpo .newscorpo p .newscorpo div.dx .newscorpo .title .newscorpo .title2 .newscorpo .data .newscorpo .subtitle .deiscrivicorpo .deiscrivicorpo p .txtintestazione a a:hover
Newsletter del Comune 30 marzo 2015
Viabilità 30 marzo 2015
Semaforo Eridania-Trento spento martedì 31 marzo e mercoledì 1 aprile
http://www.comune.occhiobello.ro.it/nqcontent.cfm?a_id=3184&tt=occhiobello
Come eliminare il proprio indirizzo dalla mailing list: Per eliminare il proprio indirizzo utilizza questo link di rimozione http://www.comune.occhiobello.ro.it/nqcontent.cfm?a_id=1456 Se il tuo client di posta non visualizza correttamente il link segui le istruzioni di seguito: 1] vai alla pagina http://www.comune.occhiobello.ro.it/nqcontent.cfm?a_id=1456 2] Seleziona "Newsletter del Comune" dall'elenco delle mailing list 3] Inserisci "newsletter@newsletter-online.it" nel campo apposito e segui le istruzioni
Mailing list del Comune di Occhiobello
Copyright 2007 - Comune di Occhiobello
Per informazioni: ufficio.stampa@comune.occhiobello.ro.it
---
30/03/2015 13:01 Condividi Tweet
SCUOLA CIVICA DI MUSICA


---
30/03/2015 13:01 Condividi Tweet




Dear Friend,
I am dr.abdullah baghdadi of A.D.B Bank in (Burkina Faso). I got your email account while searching for a business oriented personality in my private study in the internet. I bring forth a business proposal in the tune of $9.7 U.S dollars to be transferred to an offshore account with your assistance acting as beneficiary and next-of-kin to the funds.

If you know you are capable of involving and partaking in this transaction you can contact me immediately to start the transfer process. Further details about the fund and this transaction will be given to you upon the receipt of your response. Please understand that we have to hurry-up our actions because the bank authority here has plans to redeposit this fund into the treasury of the Central Government as unclaimed fund if nobody applies for this fund after the next bank audit which will begin here soon. I await your urgent reply.
contact me through this email (drabdullah.baghdadi@yandex.com)
1}Your full name_ 2}Home and office address _ 3}Full phone and fax number 4}Marital status_ 5}Age_ 6}Nationality _ 7)Occupation_
Thanks Dr.abdullah baghdadi. AFrican Development bank.. Auditor & Accounting Manager.






---
30/03/2015 13:00 Condividi Tweet
Hi,
I am Katrina,
We have vast experience in developing iPhone & Android applications. Every application is designed for its valuable customer to meet the requirement of the customer.
We are professionally specialized in Web design, Web development of firm, Development of iPhone and Android applications.
We can help your business to grow more and provide High quality to the business.
Please get back to us to know with your Queries, Requirement & best quote in case you are interested.
Thanks,
Katrina
Business Consultant (iPhone & Android)
Country: India
---
30/03/2015 13:00 Condividi Tweet
"LA TAVOLA BLU"
DI MAREVIVO
mercoledì 1 e giovedì 2 aprile 2015

Dopo Vittorio Veneto e Montagnana, arriva a Caorle "La Tavola blu", un progetto di Marevivo, realizzato con il contributo della Regione Veneto - Assessorato Agricoltura. L'obiettivo: la valorizzazione delle risorse del mare ed il loro uso sostenibile partendo proprio dalla scuola e, in particolare, dagli istituti alberghieri, da cui emergeranno gli operatori dell'enogastronomia del domani. Infatti i protagonisti saranno gli studenti della scuola alberghiera Lepido Rocco "Giovanni XXIII" di Caorle.
In ALLEGATO è possibile leggere i particolari del progetto.


PESCA SOSTENIBILE
incontro venerdì 27 marzo 2015
Lo scorso venerdì 27 marzo 2015, nel Centro Civico di Caorle, si è svolto un incontro sul tema della "Pesca Sostenibile"; un progetto che vede l'Amministrazione comunale di Caorle ed i pescatori impegnati in una nuova riqualificazione della marineria di Caorle per una pesca con reti da posta.
Chi ha aderito a questo progetto può avvalersi dello stemma identificativo della Pesca Sostenibile ed avere la possibilità di vendere il proprio pescato direttamente nel Mercato ittico Comunale; al contrario, gli acquirenti, potranno esporre il marchio di qualità della Pesca Sostenibile all'interno delle proprie attività.
In ALLEGATO, il comunicato stampa della giornata.
Copyright © Comune di Caorle
Ufficio Stampa - Resp. Gianni Prevarin
Caorle - Venezia - Italia
In ogni momento l'interessato, destinatario del messaggio, ha diritto di opporsi al trattamento per l'invio di comunicazioni commerciali, inviando una e-mail all'indirizzo info@comune.caorle.ve.it e scrivendo nell'oggetto "cancellazione", oppure collegarsi al seguente link, compilando l'apposito form di rimozione: http://newsletter.caorle.eu. L'interessato può, inoltre, esercitare tutti i diritti di accesso sui propri dati previsti dall'art.7 del decreto legislativo nr.196/03, tra i quali i diritti di rettifica aggiornamento e cancellazione inviando un messaggio all'indirizzo info@comune.caorle.ve.it.
---