Lo sapevi che... Non devi necessariamente avere un servizio di Newsletter per inviare le tue news a NewsLetter-online. Ti basta inviare una mail a newsletter@newsletter-online.it e le tue news verranno pubblicate!

07/03/2012 23:08 Condividi Tweet
/emailtemplates/childrens.html .date .body_text .body_text a .title .title a .more .section_header_green .section_header_blue .section_header_orange .section .blog_link .sidebar .footer .footer a .header_table
In the News
Go, Reader, Go!: Read Across America 2012
March 2 is the debut for the film version of The Lorax, the date Dr. Seuss would have turned 108, and the 15th annual Read Across America Day – a recipe for, as Theodor Geisel might say, "biggering" the number of bookworms in the United States. "What we're looking at right now is the perfect Seuss storm," says Random House's Kate Klimo, "in the sense that you've got the Lorax movie, you've got the Cat in the Hat TV show, and you have PBS Kids and all the PBS affiliates participating in Read Across America this year." The Seuss estate is even doing a To Think That I Saw It on Mulberry Street 75th-anniversary mall tour. "There's all of this cross-pollination," says Klimo. Here's a look at some Read Across America and Seuss-related events. more
Boersma Named Publisher of Owlkids
Canadian children's publisher Owlkids Books has announced that, as of March 5, it will have a new publisher to develop its growing books division: Karen Boersma. Boersma has been v-p and publisher of Kids Can Press for the last 14 years. At Owlkids – which has published kids' magazines Chirp, chickaDEE, and OWL for more than 35 years, and acquired children's publisher Maple Tree Press in 2008 – Boersma will be in charge of the book program's strategic planning, editorial development, and sales and marketing. more
Author Kate Messner to Give TED Talk
"Do you have a lesson to teach?" When TED – the nonprofit foundation whose conferences bring together everyone from Nobel Prize winners to technological innovators and emerging artists – posed that question online in preparation for this week's TED 2012: Full Spectrum conference, author Kate Messner responded eagerly. Her pitch: a brief talk on imagination and world-building, and how the craft of building fictional worlds might apply to real-world planning. That proposal led to her being selected as the only children's book author to give a TED Talk this year. more
BEA Finalizes Lineup for Children's Breakfast
BookExpo America has announced that Glee's Chris Colfer, author of the forthcoming The Land of Stories: The Wishing Spell (Little, Brown), will serve as emcee for the BEA convention's Children's Book and Author Breakfast. The breakfast's three speakers – Lois Lowry, Kadir Nelson, and John Green – were previously announced. more
EDC Discontinues Usborne Books on Amazon
Educational Development Corporation, publisher of Usborne and Kane Miller books in the U.S., has announced that, effective immediately, the company will no longer sell any of its books on Amazon or to any entities that resell to Amazon. This follows a 2009 decision to stop selling the Kane Miller list via Amazon. Online sales account for about 13% of EDC's total annual sales. more
Book News
Fall 2012 Sneak Previews
We may be in the middle of the spring season, but want a sneak peek at what's coming down the pike for fall? Get the inside track on next season's biggest books for children and teens with our exclusive Fall 2012 Sneak Previews. Click through to read our extensive listing, which includes new books from Rick Riordan, Lauren Oliver, Kadir Nelson, Patrick McDonnell, Rebecca Stead, Tom Angleberger, Shannon Hale, and many more. more
Cover Reveal: Jessica Khoury's 'Origin'
Here's a first look at the cover art for Origin, a debut YA novel by 22-year-old Jessica Khoury, which Razorbill will release in September with an announced print run of 250,000 copies. The story centers on a teen living in a laboratory hidden in the Amazon rainforest who discovers she is genetically engineered to be immortal. Razorbill senior editor Laura Arnold brokered the preempted deal for world rights with Lucy Carson of the Friedrich Agency. "We haven't preempted anything in a long time – perhaps a year – but this book is remarkable," says Razorbill president Ben Schrank. more
Former Hollywood Assistant Closes Major YA Book, Film Deal
In a bit of serendipitous deal-making fit for a Hollywood movie, former Paradigm assistant Amy Tintera's old employer sold film rights to her debut novel, Reboot, which has also just sold to HarperTeen. Kari Sutherland bought North American rights to the book, winning a four-way auction, after Paradigm's Lucy Stille closed a preempt on the film rights from Fox 2000. more

Digital News
Open Road Publishes Its First YA E-riginal
What started as the ghost of an idea for Andrea J. Buchanan, author of the bestselling Daring Book for Girls, has blossomed into an enhanced e-book original from Open Road Integrated Media, the company's first for teens. "This readership is so comfortable with technology," says Barbara Marcus, advisor to Open Road and former president of Scholastic Children's Book Publishing and Distribution. "We were looking for something that really was meant to be published digitally first, and we knew there was a book out there that was appropriate." more
Figment Acquires Inkpop from HarperCollins
Figment, the online writing community for teens and young adults, has purchased Inkpop, a similar HarperCollins initiative. As of March 1, Inkpop no longer exists as its own site; the inkpop.com landing page directs users to transfer their profiles to Figment. more
Penguin Launches Richelle Mead App
Bestselling author Richelle Mead will get her own app, The World of Richelle Mead, launching March 2 from Penguin. The free app is a community-based bookshelf with excerpts from all of the Vampire Academy series and Bloodlines series (with links to purchase the books), character bios and character relationships features, and a bio page for Mead that includes links to her Twitter account and video. The app's community includes polls, news, and a map of the locations of users. more
Pottermore Books to Be Distributed by OverDrive
OverDrive will manage worldwide hosting and digital fulfillment for libraries for the Harry Potter e-books on Pottermore. The books will be in more than 20 languages and distributed to over 18,000 public and school libraries worldwide. more
iStoryTime Releases First Wee Sing App
iStoryTime and Wee Sing have announced their first education app, called Wee Sing & Learn ABC. The app is available for the iPad, iPhone, and iPod Touch on the App Store, and combines original music, animated animals, and musical instruments for all the letters of the alphabet, as well as read-along text. more
Obituary
Jan Berenstain
Jan Berenstain, co-creator of the Berenstain Bears series, died on February 24 at the age of 88, after a stroke. Together with her husband, Stan, who died in 2005, Berenstain wrote and illustrated hundreds of affectionate tales featuring Mama, Papa, Brother, and Sister Bear. The Bears books, which were inspired by Jan and Stan's children and grandchildren, address all aspects of family life, from getting kids to do chores to managing first-day-of-school jitters. To date, more than 300 titles have been released in 23 languages. more

Q & A
Q & A with Jane O'Connor
Decked out in a pink trench coat and sunglasses and wielding a rhinestone-studded magnifying glass, Fancy Nancy makes her chapter book debut in typically posh style in Jane O'Connor's Nancy Clancy, Super Sleuth. Speaking from her office at Penguin Books for Young Readers, where she is editor-at-large, O'Connor discussed Fancy Nancy's success and new incarnation.

Q: Before talking about Fancy Nancy's new incarnation, tell us how she was born.

A: When I was a little girl, my grandmother and great aunts used to visit on Sunday afternoons, and I'd always greet them attired in my pink tutu that had a satin top and tulle with tiny pink rosebuds on it. I often wore it, believe it or not, with a red cape and a pair of my mother's high heels. I'd also entertain our visitors—often with a dance. more
Today's Job Albert Whitman & Company is seeking an Editorial Director. Maybe it's you! For more about this and other jobs, visit PW JobZone.

Points of Sale
Tips for Children's Booksellers
Last August after a trip to Los Angeles, where she visited Book Soup, Sarah Gerard, children's manager at McNally Jackson in New York City, began stacking series titles on the shelf, which means the books face the reader more directly. "As a brick-and-mortar store, we have to be especially conscientious about how we use our space," says Gerard. "They don't turn their books sideways. But they did take great care with how they presented their books. And it got me thinking how we could use our space more creatively." more

In Brief

In Brief: March 1: Oscars Edition
Two children's book creators had a good night at the 84th annual Academy Awards, held this past Sunday. Hugo, based on Brian Selznick's The Invention of Hugo Cabret, took home five Oscars, and author/illustrator/filmmaker William Joyce won an award in the Short Film (Animated) category for The Fantastic Flying Books of Mr. Morris Lessmore. Read on for photos and more from the show. more

Rights Report Katherine Tegen has won at auction two novels by Robin Schneider for her eponymous imprint at HarperCollins. The first, scheduled for publication in winter 2014, is called Severed Heads, Broken Hearts; it takes readers through a year with prom king Ezra Faulkner, whose charmed life collides with two misfortunes: he witnesses his girlfriend with another guy, and he shatters his leg – and his professional tennis ambitions – in a catastrophic car accident. Merrilee Heifetz at Writers House did the deal for North American rights for the two novels.

Catherine Onder at Disney-Hyperion has bought a four-book middle grade series, Oh My Godmother, by debut authors Barbara Brauner and James Mattson, to be illustrated by Abigail Halpin. The first book, scheduled for summer 2013, centers on Lacey Unger-Ware, a modern-day middle-schooler who becomes a reluctant fairy godmother. Joseph Veltre at Gersh Agency represented the authors and Emily van Beek of Folio Literary Management represented the illustrator in the deal for North American rights.

Julie Scheina at Little, Brown Books for Young Readers signed a three-book deal with Suzanne Selfors, author of Smells Like Dog. In this chapter book series, which is called The Imaginary Veterinary, a string of unusual events—from finding a lost dragon hatchling to tracking an escaped sasquatch—leads 10-year-olds Ben and Pearl to become apprentices to a veterinarian for imaginary creatures. The series will launch in spring 2013. Michael Bourret at Dystel & Goderich Literary Management brokered the deal for world rights.
IN THE MEDIA From School Library Journal:
Oscar night: Hugo walked away with five awards, while The Fantastic Flying Books of Mr. Morris Lessmore won Best Animated Short. Click here
From the Guardian:
Boys are no longer lagging behind girls when it comes to reading ability, according to a new British study. Click here
Also from the Guardian:
Author Anthony Horowitz gave a recent talk questioning the role of the publisher in today's literary world. Click here
From Flavorwire:
A eye-catching slideshow of picture books that were illustrated by famous designers. Click here
From Deadline.com:
Downton Abbey helmer Brian Percival has been chosen to direct the film version of Markus Zuzak's The Book Thief. Click here
From Gawker:
Stephen Colbert used verse to express his annoyance with the many product tie-ins for the new Lorax movie. Read more
From Entertainment Weekly:
The Fantastic Flying Books storytellers floated to cloud nine with their Oscar victory. Click here
From Salon:
When Genres Collide: An essay on J.K. Rowling turning to writing adult fiction. Click here
From the Atlantic:
Another writer pleads, "Please Don't Grow Up, J.K. Rowling!" Click here
From the Bookseller:
Ragged Bears Publishing has entered into administration in UK; a "difficult" foreign rights market was cited as the cause, particularly for picture book co-editions. Click here
From Entertainment Weekly:
A first look at the long-awaited movie version of Judy Blume's Tiger Eyes, which is directed by her son. Click here
From the Atlantic:
From cave paintings to Maurice Sendak, a brief history of children's picture books, and the art of visual storytelling. Click here

SHELFTALKER
Scenes from a Saturday
Elizabeth Bluemle
Whether it's a crazy summer Saturday, or a slow holiday-week Saturday, Saturdays at the bookstore are always fun and full of surprises. I thought I'd give readers a few highlights from last weekend. MORE
A Google Update
Josie Leavitt
Score one for the little guy. After an e-mail to Google, and several e-mails with the ABA about why Google was going to rescind my affiliate status, I received an e-mail late last night from Google. MORE
Google, I Hardly Knew You
Josie Leavitt
On Friday I received an email from Google. I was told that as of March 15 I would no longer be an affiliate of Google, thereby unable to sell e-books on my website. Needless to say, I was a little stunned. MORE
FEATURED REVIEWS
Forget-Me-Nots: Poems to Learn by Heart
Selected by Mary Ann Hoberman, illus. by Michael Emberley. Little, Brown/Tingley, $19.99 (144p) ISBN 978-0-316-12947-3

Former children's poet laureate Hoberman compiles a broad range of poems for young readers—brief enough to invite memorization—from writers including Frost, Silverstein, Sandburg, Milne, and Grimes, among many more. The works are divided thematically into categories like "Sad and Sorrowful," which features "Song" by Keats and "My Father" by Hoberman ("My father doesn't live with us./ It doesn't help to make a fuss;/ But still I feel unhappy, plus/ I miss him"); "Weather and Seasons"; and "Poems from Storybooks," with excerpts from The Wind in the Willows, James and the Giant Peach, and The Fellowship of the Ring. more
The List
Siobhan Vivian. Scholastic/Push, $17.99 (336p) ISBN 978-0-545-16917-2

The eponymous list, which mysteriously appears on the walls of Mount Washington High each year before homecoming, has the power to lift or break the spirits of eight female students: on it are the names of the "prettiest" and the "ugliest" girl in each grade. In this insightful and provocative novel, Vivian (Not That Kind of Girl) explores the effects the list has on the most recently chosen girls. While some results—self-doubt, shame, pressure—are to be expected, some of the girls respond in surprising and unconventional ways. Rebellious sophomore Sarah takes her "ugliness" to a new level by refusing to bathe or change clothes. Senior Jennifer, deemed ugliest four years running, works her way into a circle of popular girls, a group led by "prettiest girl" Margo, who used to be her best friend. more
TALES FROM THE SLUSH PILE
MORE
March 1, 2012
PeopleA job change and a name change for Rebecca Fabian, former children's department manager for the Odyssey Bookshop in S. Hadley, Mass. Broche Fabian, as she is now known, is the store manager for the soon-to-reopen The World's Only Curious George Store in Harvard Square, Cambridge, Mass. In the Winners' CircleThe Society of Children's Book Writers and Illustrators has announced the winners of its Golden Kite Awards: Between Shades of Gray by Ruta Sepetys; Amelia Lost by Candace Fleming; Over and Under the Snow by Kate Messner, illus. by Silas Neal; and Balloons Over Broadway by Melissa Sweet.
The SCBWI also announced that The Fourth Stall by Chris Rylander has won its Sid Fleischman Humor Award. Further details about both awards, as well as a list of honor books, are available at the
SBCWI blog
.
Voting is open, now through March 31, for the 2012 Indies Choice and E.B. White Read-Aloud Book Awards, which are administered by the American Booksellers Association. A full list of the finalists is available on the
ABA Web site
. Booksellers at ABA member stores can vote for their picks
here
.
The Children's Book Council has announced the finalists for its fifth annual Children's Choice Book Awards. The finalists can be viewed at the
Children's Book Week Web site
. Beginning March 14, children and teens can vote for their favorite books and authors, with the winners announced live during the awards gala on May 7. App Watch
This Week in Children's Apps
This week in children's apps features a pair of Dr. Seuss apps:Â 
The Lorax 
and
Oh Say Can You Say Di-No-Saur?
Also this week is
Polar Bear Horizon
, which tells of a polar bear and her two cubs heading for the sea.
Cocoons and Caterpillars
lets players join Stella and Sam as they discover the wonders of nature. Finally, there are a pair of Disney apps:
The Lion King:Â Timon's Tale
, which retells the classic story with the mischevious meerkat, and
Tangled:Â Storybook Deluxe
, the story of Rapunzel and her life outside the tower.
more
On-Sale CalendarSome big-name authors are releasing big books this April. Youngest readers can look forward to The Duckling Gets a Cookie!? by Mo Willems; middle-graders can follow Fancy Nancy's new career trajectory in Nancy Clancy, Super Sleuth; and new novels from Holly Black (Black Heart), Barry Lyga (I Hunt Killers), and Deb Caletti (The Story of Us) give teens plenty of options. For more on these and other new books from Walter Dean Myers, Jennifer A. Nielsen, Robin Wasserman, and more, check out our
exclusive on-sale calendar
. Bookshelf ArchivesLooking for a back issue of Children's Bookshelf? Didn't finish reading a story in last week's issue? Want to forward Bookshelf to a friend?
Click here
for our archives page! CONTACT US
Have a comment or
suggestion? We'd love
to hear from you.
Click here
to drop us a note.

Children's Bookshelf
Editor: Diane Roback
Associate Editor: John A. Sellers
Send editorial questions about this e-newsletter to: roback@publishersweekly.com
Send advertising questions about this e-newsletter to: cbryerman@publishersweekly.com
Follow PW on Facebook and Twitter.
For additional assistance, contact us by email or at the address below.
Publishers Weekly,
71 West 23 St. #1608
New York, NY 10010
Phone 212-377-5500
Copyright 2012, PWxyz LLC
Email not displaying correctly? View it in your browser.
To view back issues of Children's Bookshelf, click here.
You are receiving this email because you subscribed to a Publishers Weekly e-newsletter. To unsubscribe, click the link below.
Sent to newsletter@newsletter-online.it —
why did I get this?
unsubscribe from this list
|
update subscription preferences
Publishers Weekly · Publishers Weekly · 71 West 23rd Street, Suite 1608 · New York, NY 10010
www.email.publishersweekly.com
---
---
17/04/2014 17:26 Condividi Tweet
Animali e Cuccioli News - Gli animali non sono cose Ma che bella scoperta... - il Giornale
il Giornale Gli animali non sono cose Ma che bella scoperta... il Giornale Se siete tipi da impressionarvi pure quando Willy il Coyote precipita nel burrone e si schianta su una roccia, non vi dispia
» Leggi tutto - » Leggi tutte le news di Animali e Cuccioli
---
17/04/2014 17:26 Condividi Tweet
Animali e Cuccioli News - Malattie animali e salute pubblica, nuovo regolamento Ue - Agronotizie
Quotidiano Sanità Malattie animali e salute pubblica, nuovo regolamento Ue Agronotizie Il Parlamento europeo ha approvato a Strasburgo un nuovo regolamento per prevenire e reagire ai focolai di mala
» Leggi tutto - » Leggi tutte le news di Animali e Cuccioli
---
17/04/2014 17:26 Condividi Tweet
Animali e Cuccioli News - 27 bellissime foto di animali - Il Post
Il Post 27 bellissime foto di animali Il Post Nell autunno del 2013, l istituzione ha indetto per il secondo anno il Mammal Photographer of the Year, un concorso fotografico a tema naturalistico per
» Leggi tutto - » Leggi tutte le news di Animali e Cuccioli
---
17/04/2014 17:26 Condividi Tweet
Animali e Cuccioli News - Alleva: "Gli animali ci capiscono e soffrono, rispettiamoli senza viziarli" - La Repubblica
Alleva: "Gli animali ci capiscono e soffrono, rispettiamoli senza viziarli" La Repubblica Alleva: "Gli animali ci capiscono e soffrono, rispettiamoli senza viziarli" Enrico Alleva
» Leggi tutto - » Leggi tutte le news di Animali e Cuccioli
---
17/04/2014 17:26 Condividi Tweet
Animali e Cuccioli News - Norvegia, nel parco dove uomini e animali si coccolano a vicenda ... - TGCOM
Norvegia, nel parco dove uomini e animali si coccolano a vicenda ... TGCOM 12:02 - E l animale ad avere paura dell uomo oppure il contrario? In Norvegia, nel Polar Arctic Wildlife Centre, lupi e volp
» Leggi tutto - » Leggi tutte le news di Animali e Cuccioli
---
17/04/2014 17:25 Condividi Tweet
---
17/04/2014 17:25 Condividi Tweet
---
17/04/2014 17:25 Condividi Tweet
Bleacher Report Newsletter


College Football Edition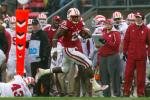 Top Juniors Heading into the 2014 Season
BleacherReport.com
Texas A&M QB Matt Joeckel Will Transfer
BleacherReport.com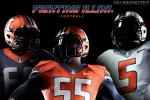 Illinois Reveals New Unis
BleacherReport.com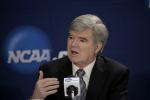 NCAA Passes Rule to Protect QBs from Low Hits
BleacherReport.com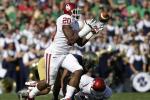 Report: Sooners' LB Accused of Sexual Assault
BleacherReport.com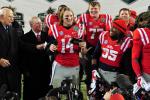 Does CFB Have Too Many Bowl Games Now?
BleacherReport.com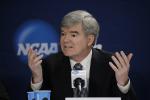 NCAA Announces Change to Mid-Year Enrollee Rule...
BleacherReport.com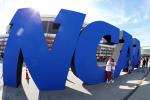 ... Why Rule Change Re-Empowers Financial Aid
BleacherReport.com
Student-Athletes Want More Than Unlimited Meals
FoxSports.com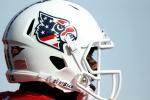 Sources: Louisville Inks Adidas to $40M Deal
ESPN.com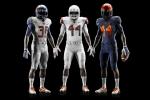 Syracuse Unveils New Unis for 2014 Season
BleacherReport.com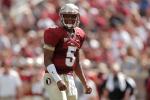 NYTimes: FSU, Police Botched Jameis Case
NYTimes.com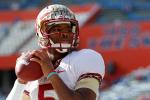 Takeaways from NYTimes' Story on FSU Investigation
BleacherReport.com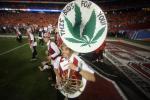 NCAA Reduces Penalty for Positive Marijuana Test
BleacherReport.com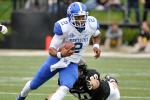 QB Jalen Whitlow to Transfer from Kentucky
USAToday.com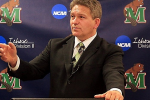 Mankato Players Boycott Practice Amid HC's Return
USAToday.com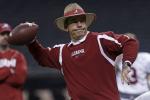 Bama Edges A&M in ESPN's 2015 Class Rankings
BleacherReport.com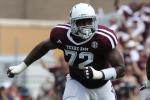 Don't Judge A&M on Offseason Arrests
BleacherReport.com

Visit BleacherReport.com for more College FB Coverage »

Get all the latest coverage:

Like us onFacebook

DownloadTeam Stream App

Follow on@BleacherReport

Subscribe onYouTube

Follow B/R onGoogle Plus

NBA Draft College Football Recruiting Michigan Wolverines Football WVU Football Texas Tech Football Auburn Football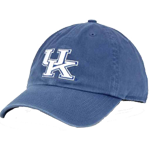 Get College FB Gear.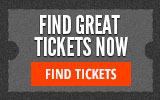 We're looking for talented College Football fans to write for Bleacher Report! Sign Up To Write!

Feel free to send any feedback or suggestions to feedback@bleacherreport.com. If you no longer wish to receive this newsletter, you may manage your subscriptions. If you no longer wish to receive any Bleacher Report newsletters, you may unsubscribe. Copyright © 2011 Bleacher Report, 153 Kearny Street, 2nd floor, San Francisco, CA 94108
---
17/04/2014 17:25 Condividi Tweet
Città di Bolzano Vai ai contenuti della pagina

Comunicato stampa: 17.04.2014 16:02Rubrica: [Varie] Appuntamenti dell'amministrazione comunaleDi seguito gli appuntamenti previsti in Comune nella settimana dal 21 al 26 aprile 2014.
Lunedì 21 aprile
"Mercatino di Primavera" - Palais Campofranco
Mercoledì 23 aprile
Ore 8.30 Giunta Comunale Ore 14.45 Conferenza stampa Sindaco Ore 16.00 Commissione Consiliare Bilancio e Affari Generali Ore 18.30 Consiglio Circoscrizionale Oltrisarco-Aslago Ore 20.00 Consiglio Circoscrizionale Europa-Novacella
Venerdì 25 aprile
Anniversario della Liberazione (Cerimonie)
Sabato 26 aprile
"Festa degli Ingombranti" Cortile Scuola Elementare Goethe (pd)
Lista completa dei comunicati stampa

© 2005-2011 Città di Bolzano
---
17/04/2014 17:25 Condividi Tweet
---
17/04/2014 17:25 Condividi Tweet
Animali e Cuccioli News - Animali: raro esemplare di squalo elefante pescato in Sardegna - Meteo Web
Meteo Web Animali: raro esemplare di squalo elefante pescato in Sardegna Meteo Web Questi animali, protetti da diverse convenzioni internazionali e a rischio di estinzione, sono particolarmente minac
» Leggi tutto - » Leggi tutte le news di Animali e Cuccioli
---
17/04/2014 17:25 Condividi Tweet
Animali e Cuccioli News - Sperimentazione animale La vittoria del dialogo - La Sentinella del Canavese
Sperimentazione animale La vittoria del dialogo La Sentinella del Canavese E questo dimostra che, pur nella diversità totale dell approccio alla questione dell uso degli animali nella sperimentazion
» Leggi tutto - » Leggi tutte le news di Animali e Cuccioli
---
17/04/2014 16:25 Condividi Tweet
---
17/04/2014 16:25 Condividi Tweet
body a a:visited a:hover p h1 h2 h3 h4 hr .forwardform .forwardinput .forwardsubmit div.emailfooter div.emailfooter a
Al Torre Santa Flora altri due appuntamenti imperdibili...
Vi aspettiamo numerosi!
Se non visualizzi l'mmagine segui il seguente link http://www.torresantaflora.it/it/news-e-offerte
--
Per cancellarti da questa lista
questo link
Per aggiornare le tue preferenze e per annullare la tua iscrizione visita questo link
questo link
Inoltra un messaggio a qualcuno
questo link
---
17/04/2014 16:25 Condividi Tweet
Ultime notizie da ilCambiamento.it

Aiuto per famiglia in cerca di sistemazione
In bacheca - ... continua

Cercasi persone per creare un ecovillaggio
In bacheca - ... continua

Azienda agricola siciliana cerca soci
In bacheca - ... continua

La Resistenza oggi si chiama nonviolenza. La Liberazione oggi si chiama disarmo
Diritti umani - Quest'anno l'anniversario della Liberazione dell'Italia dal nazifascismo avrà un valore aggiunto: i movimenti per la pace festeggeranno quel giorno a Verona con l'iniziativa "Arena di pace e disarmo". Una giornata di resistenza e liberazione. ... continua




Per cambiare la modalità di iscrizione (passando da settimale a quotidiana o viceversa) e/o per cancellarsi clicca qui.
---
17/04/2014 16:25 Condividi Tweet
Animali e Cuccioli News - Sperimentazione animale La vittoria del dialogo - La Sentinella del Canavese
Sperimentazione animale La vittoria del dialogo La Sentinella del Canavese E questo dimostra che, pur nella diversità totale dell approccio alla questione dell uso degli animali nella sperimentazion
» Leggi tutto - » Leggi tutte le news di Animali e Cuccioli
---
17/04/2014 16:25 Condividi Tweet
Animali e Cuccioli News - Malattie animali e salute pubblica, nuovo regolamento Ue - Agronotizie
Quotidiano Sanità Malattie animali e salute pubblica, nuovo regolamento Ue Agronotizie Il Parlamento europeo ha approvato a Strasburgo un nuovo regolamento per prevenire e reagire ai focolai di mala
» Leggi tutto - » Leggi tutte le news di Animali e Cuccioli
---
17/04/2014 16:25 Condividi Tweet
Animali e Cuccioli News - Gli animali non sono cose Ma che bella scoperta... - il Giornale
il Giornale Gli animali non sono cose Ma che bella scoperta... il Giornale Se siete tipi da impressionarvi pure quando Willy il Coyote precipita nel burrone e si schianta su una roccia, non vi dispia
» Leggi tutto - » Leggi tutte le news di Animali e Cuccioli
---
17/04/2014 16:25 Condividi Tweet
Animali e Cuccioli News - 27 bellissime foto di animali - Il Post
Il Post 27 bellissime foto di animali Il Post Nell autunno del 2013, l istituzione ha indetto per il secondo anno il Mammal Photographer of the Year, un concorso fotografico a tema naturalistico per
» Leggi tutto - » Leggi tutte le news di Animali e Cuccioli
---
17/04/2014 16:25 Condividi Tweet
Animali e Cuccioli News - Alleva: "Gli animali ci capiscono e soffrono, rispettiamoli senza viziarli" - La Repubblica
Alleva: "Gli animali ci capiscono e soffrono, rispettiamoli senza viziarli" La Repubblica Alleva: "Gli animali ci capiscono e soffrono, rispettiamoli senza viziarli" Enrico Alleva
» Leggi tutto - » Leggi tutte le news di Animali e Cuccioli
---
17/04/2014 16:25 Condividi Tweet
Animali e Cuccioli News - Norvegia, nel parco dove uomini e animali si coccolano a vicenda ... - TGCOM
Norvegia, nel parco dove uomini e animali si coccolano a vicenda ... TGCOM 12:02 - E l animale ad avere paura dell uomo oppure il contrario? In Norvegia, nel Polar Arctic Wildlife Centre, lupi e volp
» Leggi tutto - » Leggi tutte le news di Animali e Cuccioli
---
17/04/2014 16:25 Condividi Tweet
---
17/04/2014 16:37 Condividi Tweet
Animali e Cuccioli News - Malattie animali e salute pubblica, nuovo regolamento Ue - Agronotizie
Quotidiano Sanità Malattie animali e salute pubblica, nuovo regolamento Ue Agronotizie Il Parlamento europeo ha approvato a Strasburgo un nuovo regolamento per prevenire e reagire ai focolai di mala
» Leggi tutto - » Leggi tutte le news di Animali e Cuccioli
---
17/04/2014 16:37 Condividi Tweet
Animali e Cuccioli News - Sperimentazione animale La vittoria del dialogo - La Sentinella del Canavese
Sperimentazione animale La vittoria del dialogo La Sentinella del Canavese E questo dimostra che, pur nella diversità totale dell approccio alla questione dell uso degli animali nella sperimentazion
» Leggi tutto - » Leggi tutte le news di Animali e Cuccioli
---
17/04/2014 16:37 Condividi Tweet
Animali e Cuccioli News - Gli animali non sono cose Ma che bella scoperta... - il Giornale
il Giornale Gli animali non sono cose Ma che bella scoperta... il Giornale Se siete tipi da impressionarvi pure quando Willy il Coyote precipita nel burrone e si schianta su una roccia, non vi dispia
» Leggi tutto - » Leggi tutte le news di Animali e Cuccioli
---
17/04/2014 16:37 Condividi Tweet
Animali e Cuccioli News - Alleva: "Gli animali ci capiscono e soffrono, rispettiamoli senza viziarli" - La Repubblica
Alleva: "Gli animali ci capiscono e soffrono, rispettiamoli senza viziarli" La Repubblica Alleva: "Gli animali ci capiscono e soffrono, rispettiamoli senza viziarli" Enrico Alleva
» Leggi tutto - » Leggi tutte le news di Animali e Cuccioli
---
17/04/2014 16:37 Condividi Tweet
Animali e Cuccioli News - 27 bellissime foto di animali - Il Post
Il Post 27 bellissime foto di animali Il Post Nell autunno del 2013, l istituzione ha indetto per il secondo anno il Mammal Photographer of the Year, un concorso fotografico a tema naturalistico per
» Leggi tutto - » Leggi tutte le news di Animali e Cuccioli
---
17/04/2014 16:37 Condividi Tweet
Animali e Cuccioli News - Norvegia, nel parco dove uomini e animali si coccolano a vicenda ... - TGCOM
Norvegia, nel parco dove uomini e animali si coccolano a vicenda ... TGCOM 12:02 - E l animale ad avere paura dell uomo oppure il contrario? In Norvegia, nel Polar Arctic Wildlife Centre, lupi e volp
» Leggi tutto - » Leggi tutte le news di Animali e Cuccioli
---
17/04/2014 16:36 Condividi Tweet
---
17/04/2014 16:36 Condividi Tweet

NEWSLETTER17/04/2014

Sassuolo, 6 squadre giovanili impegnate in tornei di Pasqua
Fine settimana di Pasqua impegnativo per 6 delle 8 formazioni che compongono il settore giovanile del Sassuolo calcio. A farla da padrone sarà il "Memorial Claudio Sassi", giunto quest'anno alla 24^ edizione, che vedrà in campo i neroverdi nelle categorie Under 18 (la Primavera di Paolo Mandelli), Under 16 (gli Allievi Nazionali di Mauro Mayer) e Under 14 (i Giovanissimi Regionali di Christian Papalato). Gli Allievi Lega Pro di Filippo Pensalfini saranno di scena al 28° "Torneo Zini" a Rubiera, i Giovanissimi Nazionali (nella foto) di Francesco Cattani giocheranno invece il 28° "Torneo Città di Casalgrande". Trasferta a Genova infine per gli Esordienti 2002 di Marco Costi che parteciperanno al "Torneo Caravella" di Genova. Sul www.sassuolocalcio.it sono disponibili tutti gli orari delle gare dei neroverdi nei diversi tornei pasquali.Quotidiano di informazione di Sassuolo e dintorni.www.sassuolooggi.it


---